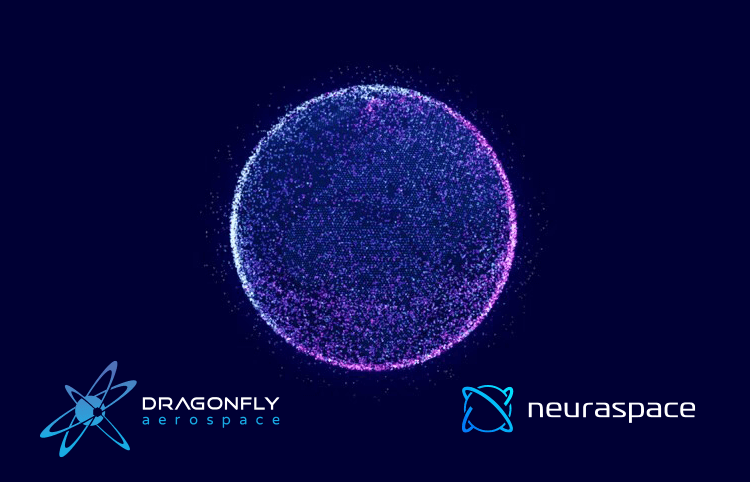 Neuraspace's groundbreaking Space Traffic Management platform will be used by the world's first agricultural-focused satellite.
Dragonfly Aerospace is proud to announce a strategic partnership with Neuraspace, a leading provider of smarter space traffic management (STM), to explore the company's STM platform for space sustainability. 
The manufacturer of world-class, high-performance imaging satellites and payloads will be using Neuraspace's STM platform for its EOS SAT-1 satellite for conjunction analysis and receiving manoeuvre suggestions. EOS SAT-1 is the world's first agriculture-focused satellite and the first in a seven-satellite constellation, providing the agriculture and forestry industry with high-quality data and analysis.
Increasing satellite lifespan
With the integration of the Neuraspace STM platform, EOS SAT-1 will benefit from enhanced capabilities to autonomously manoeuvre and avoid potential collisions with other objects in space. This safeguards the satellite and contributes to the overall reduction of space debris — a growing concern in space. STM technology also aims to not only help increase the satellite's lifespan but also to improve its resilience, performance, and utility.
"The partnership between Dragonfly Aerospace and Neuraspace represents a crucial step forward in our commitment to sustainable space exploration," said Bryan Dean, CEO of Dragonfly Aerospace. "We are excited to leverage the Neuraspace STM platform to ensure the safety and increased operational efficiency and longevity of EOS SAT-1.
Satellites for sustainability
Over the next five years, images from EOS SAT-1 will be providing critical information for harvest monitoring, including soil moisture, yield prediction, and biomass levels, as well as applications such as mapping, seasonal planning, and infrastructure monitoring. The data from this satellite will help inform and promote sustainable agricultural practices with improved yields that can reduce the need to cut down forests, thereby helping maintain the Earth's biodiversity.
Neuraspace's STM platform is designed to meet the evolving needs of satellite operators, promote responsible space practices, and safeguard the future of space-based missions. "By choosing Neuraspace as a partner, Dragonfly Aerospace reaffirms its dedication to environmentally conscious and sustainable space endeavours. We believe that space sustainability is critical to the future of our industry, and we are committed to doing our part to advance this important goal," says Dean.
Industry leaders to promote space sustainability
"This collaboration with Dragonfly Aerospace marks a significant milestone in the pursuit of deploying sustainable space practices," said Chiara Manfletti, Director and COO of Neuraspace. "Our STM platform is a critical tool for ensuring the safe and sustainable use of space, and we are eager to witness its support for the EOS SAT-1 satellite. This partnership underscores the significance of cooperation among industry leaders in promoting space sustainability. 
The Neuraspace STM platform is poised to revolutionise the way satellites operate in the Earth's increasingly crowded orbital environment. By providing AI-based space traffic management solutions, Neuraspace enables satellite operators to ensure the safety and longevity of their missions while contributing to a more sustainable space ecosystem."
About Neuraspace
Neuraspace's AI-powered space debris monitoring and satellite collision technology enables more accurate risk prediction by harnessing AI and ML models to forecast and assess collision probabilities among satellites and with existing orbital debris. Through collaboration with other organisations, Neuraspace aims to ensure the safety of satellite fleets, preserve the integrity of space, and facilitate secure access to space for all space operations.