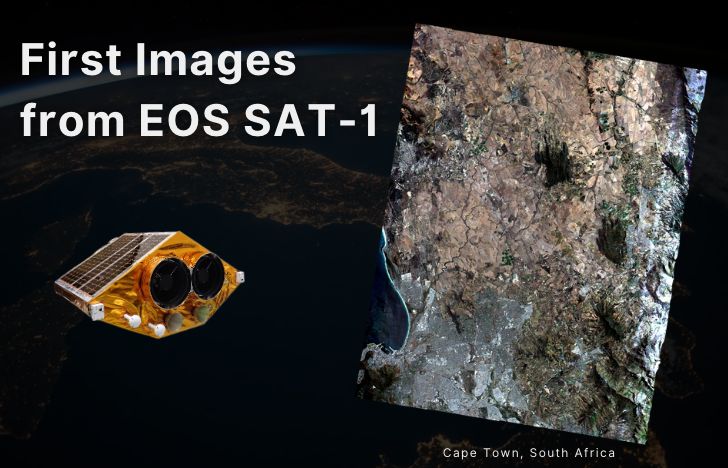 Dragonfly Aerospace is delighted to announce the release of the first images captured by its revolutionary satellite, EOS SAT-1. This milestone marks a significant achievement for Dragonfly Aerospace and EOS Data Analytics (EOS DA), a global provider of AI-powered satellite imagery analytics, and a major leap in high-resolution satellite imaging. The full-cycle operational process of the EOS SAT-1 satellite has been established via the vertical integration of multiple space companies under the ownership of international space technology and IT business entrepreneur, Max Polyakov and Noosphere Ventures.
Equipped with Dragonfly Aerospace's state-of-the-art imaging technology, EOS SAT-1 was launched into orbit on 3 January 2023 and can monitor up to one million square kilometres daily and is geared towards monitoring plants, specifically for the purpose of improving agriculture from the standpoint of plant health, stress. The data gathered will help increase the yield of agricultural areas while reducing water usage and the use of harmful pesticides. 
The first image released by Dragonfly from EOS SAT-1 shows the city of Cape Town taken at a resolution of 1.5 m with a swath of 44 km and was taken with 11 spectral bands — an unprecedented spatial, spectral, and swath combination. Images from EOS SAT-1 can deliver valuable information for harvest monitoring, such as soil moisture, yield prediction, and biomass levels, as well as applications such as mapping, seasonal planning, and infrastructure monitoring. The data from this satellite aims to support growers to develop sustainable agricultural methods with improved yields that can reduce the need for cutting down forests and help maintain biodiversity on the planet.
"We are excited to unveil these remarkable first images released from EOS SAT-1," said Bryan Dean, CEO of Dragonfly Aerospace. "EOS SAT-1 was specifically designed for agricultural monitoring, and features an exceptionally wide field of view that can capture incredible detail across large areas of agricultural land. Farming intelligently is the way we can look after the whole ecosystem while also improving food security for people around the world."
EOS SAT-1 is the first of a seven-satellite constellation in low Earth orbit (LEO) for customer EOS DA, designed to support the implementation of sustainable agriculture methods and forestland monitoring with high-quality data and analysis. The remaining six satellites are due to be deployed over the next three years and the completed constellation will monitor 90% of all farmlands and forests around the world every five days.

CEO of EOS Data Analytics, Artiom Anisimov is delighted with the first images from EOS SAT-1. "We are thrilled to embark on this new journey that will enable us to harness proprietary datasets, providing our customers and partners with unparalleled insights and enhanced accuracy. EOS DA remains steadfast in our pursuit of innovation, and we look forward to unlocking further advancements that will revolutionize the industry and benefit our global community."
The EOS SAT constellation imaging capabilities will enable unprecedented Earth observation with data correlated to the industry standard Sentinel-2 but now providing commercial tasking at an upgraded spatial resolution and higher revisit rate that will provide highly valuable insights and a new perspective on the health of our planet's agricultural land.
"We are incredibly proud of EOS SAT-1's performance and the quality of the images it has produced," added Dean. "As the world's first agri-focused satellite, launching it was the culmination of everything that we've done at Dragonfly Aerospace to this point. Having been intimately involved in designing and manufacturing every subsystem of the satellite ourselves, we couldn't be more proud to have created one of the top-performing satellites ever launched."
About EOS Data Analytics
EOS Data Analytics (EOSDA) is a global provider of AI-powered satellite imagery analytics founded by Dr. Max Polyakov, an international space technology and IT entrepreneur and philanthropist. The company operates worldwide, partnering with governmental, commercial, and scientific organizations.
The company provides Earth observation solutions for smart decision-making in 22 industries, with the main focus on agriculture and forestry. EOSDA combines data retrieved from satellite imagery with AI technologies and proprietary algorithms to analyze the state of crops within farms and trees growing in forest stands to drive businesses and implement sustainable practices globally.      EOSDA's mission is to harness the power of satellite technologies to provide businesses with fast and accurate data-driven decisions.
EOSDA's main product in the agriculture industry is EOSDA Crop Monitoring, an online satellite field monitoring service that collects all the important information about the state of crops in one tool.