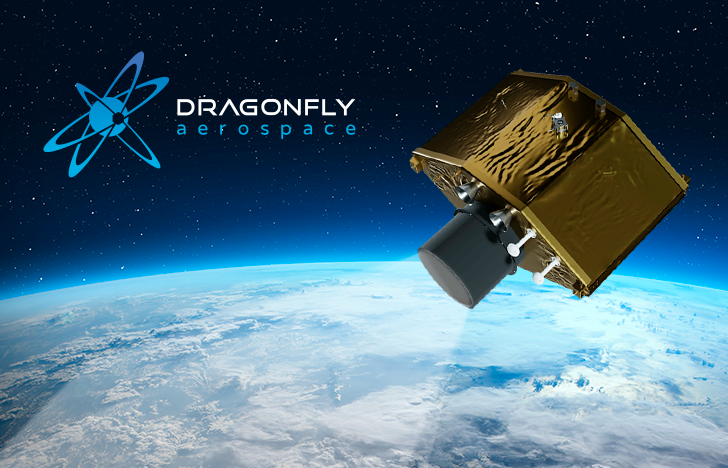 Recently, Dragonfly unveiled the new 100 kg µDragonfly Bus for transporting electro-optical satellite cameras. Here, we focus on the electro-optical technology.
We previously wrote describing SAR (synthetic aperture radar) technology. To facilitate this type of payload, Dragonfly recently introduced the 200 kg class Dragonfly Bus.
Now, we will highlight the electro-optical  technology for satellite cameras. The updated product line boasts the µDragonfly Bus to transport them.
Electro-optical sensors monitor a wide range of radiation — from infrared to ultraviolet. Detectors of this type convert light or changes in light into an electronic signal. To accomplish this, the detector first must measure the physical amount of light. It then converts it into a format that devices can read. 
The optical sensor can measure changes from one or more light rays. The optical switch enables signals in optical fibers as well as in integrated optical circuits. It then switches between the fewest targets required.  
Satellite imagers with electro-optical technology — a high-speed synchronous scanning device for recording the change in the intensity of a light impulse over time, are used to spectroscopy monitoring for various purposes such as  pipelines, wind turbines, offshore platforms, power lines, or wells in geological developments. 
Monitoring can also extend to other objects or civic structures such as dams and levees, airstrips, or railroad tracks.
The new 100 kg µDragonfly Bus is designed to transport electro-optical imagers that can provide persistent views of the Earth across a wide spectrum.
The 200 kg Dragonfly Bus has a much larger carrying capacity than was needed for the electro-optical imagers. Consequently, the µDragonfly Bus has a payload of 60 kg. The load volume can sustain up to 500 mm x 1000 + mm. 
Also, the µDragonfly has a five-year lifespan. 
Dragonfly plans to release 4 units from the updated line next year. That number will increase to 10 units per year. The long-term goal is to produce about 48 satellites with imagery payloads annually.
This year, Dragonfly has already upgraded its design and production facility in Stellenbosch, South Africa (3000m2 ) in order to attain such ambitious plans as soon as possible.