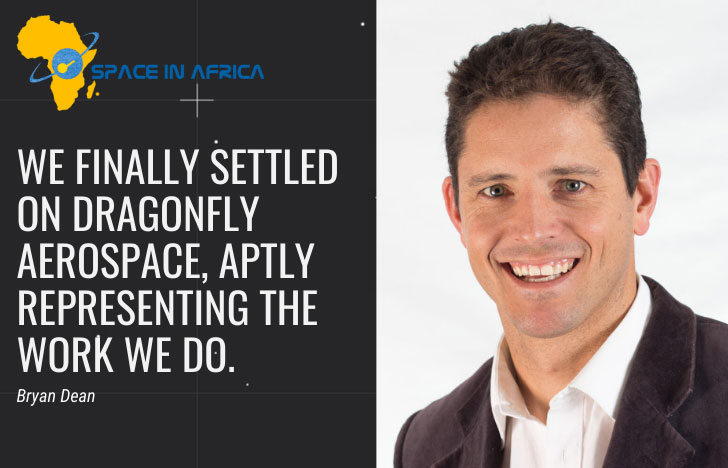 In this exclusive interview with Space in Africa, Bryan Dean, the CEO of Dragonfly Aerospace, discusses the company's emergence from SAC, rebranding from Southern Space, business goals, and market prospects in South Africa and the international satellite market.
Dragonfly Aerospace, Southern Space  and Space Advisory Company
I understand that you started as Southern Space, and later you renamed the company to Dragonfly Aerospace. Let's say before Dragonfly Aerospace, how did you transition from Space Advisory Company (SAC) to Southern Space?
2019 was a bit of a challenging year for Space Advisory Company. As employees, we knew there were some financial issues due to some contracts that we were hoping to sign not being finalized but it still came as a bit of a surprise in November when we realized that SAC was in real distress and our jobs were in jeopardy. From November until December, a group of five of us inside Space Advisory Company decided that we did not want to go and do other work. We want to stay doing the exciting work that we were doing. This capability in South Africa, built over a long period through various companies, is not something that we wanted to just die. We always felt through SAC that we were building on a heritage of work done starting from Stellenbosch University, then [defunct] SunSpace, to SAC and Denel Spaceteq. At SAC, we also worked together with Denel Spaceteq on some projects over the years. From the outside, it appeared that Denel Spaceteq was also having financial troubles at the same time that SAC was in distress.
It looked like the whole heritage that was developed over the past 20 years or so at that point could fall apart. There are a few companies doing outstanding work on CubeSats in South Africa, but it was really only Denel Spaceteq and SAC that were focused on microsatellites. Sadly, both of them were financially stressed for 2020. We, therefore, decided to pull together a core team of five people at first and then started identifying some key people that were important to keep in the team for us to maintain this microsatellite capability in house. By January, we had pulled together a team of 15 people to start Southern Space.
How did you transition from Southern Space to Dragonfly Aerospace?
We pulled together Southern Space with very little notice. The Southern Space brand was something that we had been thinking about in the 2019 timeframe, but we just jumped on it quickly and registered the company. However, it lacked a long-term global strategy around branding. It was just about getting something together quickly so that we could open our doors on the 1st of January. In February, we started looking at rebranding, and we went through a whole rebranding plan with a keen interest in brands that would be useful for us on the international market.
We finally settled on Dragonfly Aerospace, aptly representing the work we do. The dragonfly has excellent vision, agility and stability, which are qualities clients want in a satellite. Also, they have fantastic eyes with lots of colour receptors which are very similar to our cameras as well. Their compound eyes, which can see 360 degrees, is comparable to a constellation of satellites. I am excited about the brand and the positive feedback we have received so far.
It is a pretty journey from a branding perspective. I know a lot of people out there would want to learn about the transition in terms of capabilities and IP products of Space Advisory Company. I understand Space Advisory Company is a subsidiary of Space Commercial Services (SCS). Can you say what transpired in terms of existing capabilities and IP products?
We have had an excellent relationship with Space Commercial Services(SCS) from the outset. They were unhappy, obviously, that Space Advisory Company was dying not just from a commercial point of view, but also regarding the decline of the national capability that was built up over more than 20 years. They are happy that we could find our feet and continue the story in South Africa in terms of microsatellite capability. They have been very supportive, and we have maintained good relations with them.
In terms of the capability, we pulled across most of the key engineers from SAC when we started with the small group of 15. We have already increased the size of our team to over 30 people in South Africa, with the senior engineers from SAC and some others from Denel Spaceteq joining us.
In terms of the facilities, we took over the lease of the facility that SAC was using in 2019 from [the parent company] SCS. The facility is a future-forward looking facility because it has a lot of space for expanding operations and growing the company. We have a great future planned in the facility. We are busy doing big upgrades to the facility in terms of the cleanrooms and equipment we have in there from SCS. We have already bought significant amounts of equipment from them. We are in the process of buying up the remaining equipment.
Regarding intellectual property, we are in the process of buying out the intellectual properties. At the moment, they are still licensing the intellectual property to us on a deal by deal basis. We sign a licensing deal with SCS for each new order we receive for products that are based on their IP. We have done some deals already using this model, and it has worked quite well so far this year. It is certainly a good short term solution. We are in the process of negotiating for buying the IP from them with hope to be concluded in the next few months, hopefully by the beginning of 2021.
Although SCS continues to operate, they are not looking to go into manufacturing in the future. They are positioning for a consulting role rather than a manufacturing role. With the deal around the facilities, equipment and intellectual property, SCS will likely be one of our customers in the future.
The SCS's nSight-1 Satellite Mission and Gecko Camera
Great to learn about the technical details of the transition. How is the situation around nSight-1 satellite which was launched into space by SCS in 2017?
nSight-1 re-entered the Earth's atmosphere in 2020, sometime around June. That has remained an asset of SCS, so we did not take any transfer of the satellite in 2020. We were not involved in operating the satellite. nSight-1 was a very successful mission, and we are super proud of it. The Gecko camera, which we are now taking forward to Dragonfly Aerospace, worked flawlessly for the three years life of the satellite. Amazingly, we took the last photograph from that satellite last days before the satellite re-entered. We watched the satellite health telemetry as we were downloading the last image data from the satellites. We shall continue to be very proud of the nSight-1 mission considering that our team members were directly involved in building the satellite.
International Investment and Techno Park Stellenbosch Facility
Great mission to be proud of! How is the structure now at Dragonfly Aerospace? I understand that you raised an investment from an international investor. Can you talk about funding from the transition to when you raised the external investment?
At the beginning of the year, the five core team members were the majority shareholders. We funded the company through January and February before signing an investment deal with an international investor in February. Unfortunately, I am not able to disclose the international investor and value of the deal. We signed the agreement in February and gave up the majority of the shareholding to the investor.
We share the same aspirations with the investor on growing the business. We were happy to find such an investor with a particular focus in the space industry and the manufacturing of microsatellites. We could not have found a better investor in that regard.
Great! Thank you for the insights around investment. Let's talk about your plans.  What are you looking to set up in terms of AIT facility and other facilities that could boost your manufacturing capability?
We are fortunate with the facility that we have signed a five-year lease agreement located in Techno Park Stellenbosch. It is a 3000 square meter facility with about a 1000 square meters of cleanroom areas. We are using a part of the investment funding to upgrade the cleanrooms to ISO international specifications. We are upgrading the entire facility too, but we are not doing this from scratch as the building was originally intended for this type of high-precision manufacturing work.
Are you leasing the facility from a private company or the government?
It is from a private property company that is well established in the Techno Park Area. The facility was at one point owned by the Industrial Development Corporation (IDC), a government-owned corporation. The building was originally built to manufacture solar panels with nice big cleanrooms. It was relatively easy to transition the building from solar panel manufacturing into imager and satellite manufacturing because the same kind of quality control and cleanliness was initially intended when the building was built, or at least when it was most recently upgraded in the past.
Short Term Product Strategy and Future Partnerships
I understand your team is currently working remotely on design projects due to the pandemic. When are you looking to move into full production and what specific products do you have in mind? Are you looking at producing turnkey satellites or concentrating on imagers?
A majority of our work this year has been on design. This has been useful in a year of remote working. We recently announced a deal at the IAC2020 with a customer who is buying two of our large imagers. This deal is the work that we have been working on this year primarily. We have also been in production already this year, delivering a number of the smaller imagers to customers around the world.
It was nice to come straight out of the blocks, opening the company in January and delivering cameras to customers in the first months of the year. At the moment, our focus is on selling cameras as a short term product strategy. In the long term, we are certainly looking to deliver microsatellite solutions as well. Our sweet spot in terms of hardware size is that we are looking at satellites weighing about 100kg.
We are not looking to develop nanosatellites or CubeSats. Although we have cameras aimed at the nanosatellite market, our strategy is to work together with CubeSat bus providers as key partners. We already are talking to such partners around the world at the moment and having some significant progress.
In the microsatellite domain, we are also talking to satellites bus suppliers about providing payloads for their buses. Although in the long term, we are looking at delivering full satellite solutions in the microsatellite domain, for the next 12 months our focus is very much on cameras.
That sounds like a great plan! I read in your press release about plans to produce up to 48 satellites per year. It seems to be the long term objective, right?
Definitely! It is a long-term goal. It is exciting that what we are investing in now will enable us to grow to the point where we are delivering up to 48 satellites a year. The facility that we are investing in right now will be able to produce that number of satellites per year. The building has lots of room for expansion in terms of growing the number of employees. We already have about 35 employees. We would need hundreds of employees to have the capacity to produce up to 48 satellites per year. We will not have to move when the time comes because the building will allow us to grow the size of our team as we grow the business. Also, the AIT facilities that we are investing in right now will be for good for our next five to ten year aspirations.
So exciting for you and your team, I had imagined. What do you consider your toughest challenge in starting Dragonfly Aerospace? Could it be talent, investment, operations or market forces?
As for talent, we were lucky to have such a great pool of talent from Space Advisory Company and Denel Spaceteq. A lot of talent is available in the local industry, and we have not had to look very hard to grow our team with excellent people who have great experience and skills.
Funding was a challenge considering that the first two months were tough. Five of us who were the initial directors of the company carried the business out of our pockets. It was a tough financial challenge to make payroll for a team of 15 skilled aerospace engineers! Also, even after signing the investment deal, it was tough to continue to make expenses out of the directors' pockets until the investor funds were available.
2020 is a stressful year to run a business anywhere in the world. I would say operations is a real challenge. What we did when we came out of SAC was to put together the technical team, but we were all engineers. We had to learn how to run a business on the go, acquiring every bit of knowledge about legal, commercial tax, etc. along the way. It was challenging with lots of sleepless nights. But we were able to expand the team beyond the original core engineering capability, bringing in skilled people in operations and business development.
We brought in a chief operating officer, who has fantastic commercial experience. We hired human resource managers, office administrators, and we have built up an excellent support staff in the company that has improved the running of the company effectively. The critical technical people are now able to get back to doing what they know how to do best: designing imagers and satellites. We now have a strong team with complementary skills not only on technical but also on operations, commercial and legal.
Such an incredible journey so far. What are your thoughts around business prospects in South Africa? I understand the South African government recently announced new funding for the Space Infrastructure Hub, which includes plans to build up to six satellites locally.
We are very excited about the plans the South African National Space Agency (SANSA) is making. We hope to be a part of these plans as we build up relations with SANSA, SACSA, ZASpace Inc. as well as several other parties involved in the South African space ecosystem. We are starting from scratch in building these relations because the leaders of our company were not so much customer-facing in the past. Our advantage is that we have a strong team and technical capability developed over many years. A lot of the capability that South Africa has been investing in over multiple decades already sits in our company.
The South African [space] industry is primarily focused on the international market, and that has made the industry robust. The key focus for most companies has always been to build an international business and foster the ecosystem in South Africa, but not to be reliant on it. We are very excited to be partners and help provide solutions when the South African government is investing space. There is always a national pride when working on a South African mission because you are putting your proudly South African badge on it and your feelings into the project in a different way than for a purely commercial project. However, you have to make sure that you are financially viable and able to fill the gaps between projects on a national level.
Absolutely! Where do you see the most traction internationally in terms of the geographical regions of your clients and prospects?  You are focusing on cameras at the moment. Are there other vertical products you envisage to have traction going forward?
We are targeting customers all around the globe. I would say Europe is probably our biggest market at the moment in terms of selling imagers directly. We are very keen to do business in the U.S., even though it is a bit more challenging there. It would be best if we had a local partner in the U.S to do business there. We will be looking at that sort of partnership as we advance because the U.S is naturally a big market. However, we do have experience in emerging markets and will be targeting emerging markets in Africa, Asia and South America as well as the European market.
We are thankful Joseph U. Ibeh for the conversation, Senior Analyst at Space in Africa